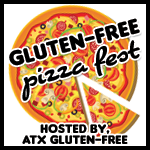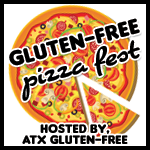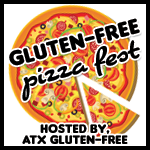 Greetings food bloggers!
You might be wondering…pizza fest? What the heck is that? It is a time where food bloggers come together and share their best kept pizza recipes they have come to love. I have always loved pizza. In fact, it might be my favorite food of all time. I can't wait to share this exciting event with you all!
ATX Gluten-Free is hosting a fabulous event February 7-11 and February 14-18. The event is called Gluten-Free Pizza Fest and it is 10 days of gluten-free pizza recipes on my blog, ATX Gluten-Free.I would love to get others involved also, so would love for you to participate (or help spread the word).
For those that would like to participate, you may contribute 1 or more of the following points below at any time during the dates 2/7-11 and 2/14-18.
a gluten-free pizza recipe (This does not have to be an original recipe, it may be adapted. Also, you may use homemade or pre-made gluten-free crust).
a gluten-free pizza restaurant review (Only if you live in Austin, Texas)
a gluten-free pizza product review.
Your contribution to pizza fest will be as a blog post on your blog.
After pizza fest is over, I will write a summary blog post with links to everyone's pizza post (February 21).
The button plus widget code is now available on the front page of my blog. If you are a Gluten-Free Pizza Fest Contributor, please add this button to your blog. (Not mandatory)
*Save the button picture to your computer (or copy image URL) and upload this button picture to your blog posts contribution, with a link back to ATX Gluten-Free. (Mandatory)*
I am looking forward to reading everyone's pizza posts! If you have any questions, feel free to email me (atxglutenfree@gmail.com) or tweet me (@atxglutenfree).
Note:
You

do not

have to be a gluten-free food blogger to participate. I just ask that you provide a gluten-free recipe/restaurant review/or product review in order to participate.
If you live in Austin, Texas and will be participating, let me know by email (atxglutenfree@gmail.com). There are a couple more details to share with you;  including a taste-testing party!
You

do not

have to live in Austin, Texas to participate in Pizza Fest.
Please leave a comment in the comment section if you would like to participate; or you may send me an email or tweet.
Thank you everyone! Please feel free to help spread the word!
Best-
Jessica, ATX Gluten-Free